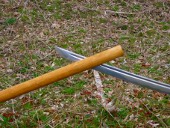 In the Genbukan Kusakage Dōjō the basic foundation of all weapons are bōjutsu (棒術 - staff art) and bikenjutsu (秘剣術 - secret sword art). They are taught within the Genbukan World Ninpō Bugei Federation, but they do have their own curriculum and a separate ranking system from the ninpō taijutsu system.
Bōjutsu has two basic weapons taught in this art. One of the weapons is a six-foot staff called the rokushaku-bō (六尺棒 - six foot staff). The other weapon taught is a three-foot staff called the hanbō (半棒 - half staff), sometimes referred to as sanshaku-bō (三尺棒 - three foot staff).
Bikenjutsu uses a samurai sword in the initial curriculum, but later in advanced levels the ninja sword is used. Other ryūha that are within the organization sometimes refer the sword arts as kenjutsu (剣術 - sword art) and kenpō (剣法 - sword method).
Note: The name 'kenpō' should not be confused with another martial art called kenpō (拳法 - fist method). Their kanji (Chinese characters used in Japan) are different but the pronunciations are the same.
The following are a few of the ryūha from which our bōjutsu bases its knowledge from:
• Hontai Kukishin-ryū bōjutsu (Takagi-ryū lineage)
• Kukishin-ryū bōjutsu (Kuki Shōbukyoku lineage)
• Tenshin Hyōhō Kukishin-ryū
• Shinden Kitō-ryū bōjutsu
• Kukishinden Happō Bikenjutsu
• Yagyū Shingan-ryū heihō
The following are a few of the ryūha from which our bikenjutsu bases its knowledge from:
• Tenshin Hyōhō Kukishin-ryū
• Kukishinden Happō Bikenjutsu
• Yagyū Shingan-ryū heihō
• Gikan-ryū koppōjutsu
• Togakure-ryū ninpō
• Mugen Shintō-ryū iaijutsu